Click here to view our Field Hunts Brochure
Guided Field Hunts, with no bag limit! Yes, that's right- NO BAG LIMIT HERE! Shoot birds others missed for free!  RCR is the premier destination for prestige habitat and endless birds!
Royal Creek Ranches, located in Rush Valley, Utah is a wing shooter's paradise. Hunters are likely to see hundreds of strong, fast-flying pheasants as soon as they step into the field. We offer a variety of types of pheasant hunts based on our lodging, group sizes and amenities.
This world-class hunt is Royal Creek's most popular. These hard-flying birds provide a challenge to even the most seasoned wing shooter.  It's one of the few opportunities available for the serious wing-shooter to harvest a grand slam of upland birds during a single hunt.
Our goal is to make your Utah pheasant hunt with us a memorable hunting experience.  We offer thousands acres of prime Utah pheasant hunting land.  The core of our land is planted specifically as pheasant habitat.  Our guides have literally been hunting their entire lives, and have valuable experience to make your hunt the best it can be.  We custom tailor our hunts to the hunting style of each group, so any hunter experience level will feel right at home.
Hunt packages from 6 to 20 birds! Packages come with guides, dogs, 'The Royal Feast', birds, refreshment break, bird dressing, bird processing, group photo, pro shop access, a beautiful farm that is planted for hunting not farming, plus free birds if you find missed birds from past hunters.
Hunt a half day, all day, or the popular afternoon hunt -spend the night- then morning hunt!
DURING THE FALL 2020-21 SEASON HUNTS ARE BEING BOOKED FAST. SO CALL 435-841-1345 AND TALK TO MIKE TODAY!
EACH GROUP MUST BE MIN. OF 2 HUNTERS FOR THE GUIDES, IF YOU DON'T HAVE 2 HUNTERS WE CAN PARTNER YOU WITH OTHERS. OR YOU CAN GET A THIRD PACKAGE AND SHARE THE COST AND SHOOT MORE BIRDS. WE WILL TAKE 5 IN A GROUPS AS WELL. WE TAKE 9 GROUPS PER DAY AT THE RESORT.  ANY NUMBER OF HUNTERS CAN JOIN A EUROPEAN SHOOT. YOU MUST CHECK OUT OUR EUROPEAN HUTS ON THIS WEBSITE! WE ARE OPEN TO MEMBERS AND NON-MEMBERS AT OUR RESORT.
MEMBERS HAVE FIRST PRIORITY ON DAYS AND GUIDES!
CHECK OUT THE VIDEOS ON THIS TAB AND ON OUR VIDEO TAB!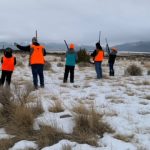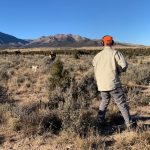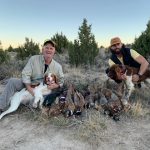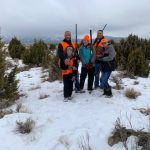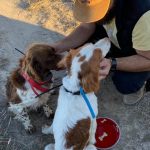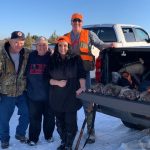 HUNT AND LODGING PACKAGES
Deluxe 1 Day / 2 Night Package
$ 2,500.00 per person
Package Includes:
Deluxe Lodge Accommodations
5 Dutch Oven Meals
Wi-Fi, Satellite TV, Pool Table, Clay Shooting range
Full day hunt
Professional Guide and Gun Dog
Bird Processing
Deluxe 2 Day/ 3 Night Package
$3,750.00 per person
Package Includes:
3 Nights Deluxe Lodge Accommodations
8 Dutch Oven Meals
Wi-Fi, Satellite TV, Pool Table, Clay Shooting range
3 Hunts
Professional Guide and Gun Dog for all 3 hunts
Bird Processing
Tips for the guides, executive chef and ranch staff are very much appreciate! Although not necessary or expected They work hard to make this an experience of a lifetime!
Few resorts can offer a no bag limit policy. They all charge extra fees if you harvest more birds than in your package. NOT AT OUR RESORT! These are birds that are left behind by the hunters before you. Of course we cannot guarantee extra birds will be there. It is based on the shooting skills of the hunters before you, but about 60% of the groups get extra shooting, so it is very common and happens each day.
Dates are booked by calling the office at 435-841-1345 or email Mike at mike@RoyalCreekRanches.com and making a reservation. Office hours are 9 to 5 MST. We are one of the most popular hunting resorts in the country! Elk or Pheasant, this is the place!
This is REAL hunting for SERIOUS bird hunters! No one time hunters here.  Everyone leaves planning for their next visit. Just view the testimonials on the home page!
Thank you for taking time to study this information. We hope to hear from you.
Chad and Shondell Hymas
info@RoyalCreekRanches.com
435-841-1345