DRIVEN PHEASANT FURY! WHO LET THE BIRDS OUT…WHO, WHO,WHO?
Yes, dream destination for letting the shells fly, dogs work and a thrill you will never forget! Minimum 300 birds released. 300-1500 bird shoots available. 10 shooting stations. "AMAZING" is a common testimonial we receive! This is a one of a kind experience, and Royal Creek Ranches is willing to humbly challenge we have the best landscape, facility, terrain, guides, dogs and birds for this memorable experience! See why hunters come from all over the world for this! This is extreme pheasant shooting and now clay target shooting included too! You can join a shoot with just one hunter or more! Email us for dates open, at info@RoyalCreekRanches.com Packages come with guides, dogs, 'The Royal Feast', birds, refreshment break, bird dressing, bird processing, group photo, pro shop access, a beautiful farm that is planted for hunting not farming, plus free birds if you find missed birds from past hunters.
Click here to view our Driven Hunts Brochure 
It is so exciting to be able to shoot at hundreds of pheasants! Unleash your shotguns and let the shells fly. The guides and dogs will do the rest! Shoot plenty of shells as the bird has the advantage here. Pheasants will come flying high above you, some up to 90 yards! Plus they are moving along at a mere 40-45 miles per hour! Our shooting course has 10 stations, so we can take a minimum of 10 shooters, or up to 30 shooters during one hour. Most of the shoots are 300-400 or 500 bird shoots. But we can do up to 1500 birds. That's a lot of shooting for a 3 hours. Not uncommon for a corporate function to come and have an inspirational safety/leadership message from world renowned speaker/author, Chad Hymas, Then go let 5000 shells fly in the afternoon! You'll be educated, engaged and entertained in 1 day. But our goal is to spread out the learning and excitement. Let's make it a 2-4 day excursion, and bring other speaker/experts in, as well as our Elk preserve (23 minutes by helicopter). There is more to a fine quality Driven shoot than just shooting at pheasants. Add to it the Royal Feast before the shoot, then we have our safety orientation and "inspiration from the masters." You will learn all about the shoot before it happens so you will have more fun and excitement! We load up on the tractor wagon after the Royal Feast for the ride to the shooting course, yes, all 10 shooting stations! There the gundogs are introduced to the shooters by the dog handlers. All shooters rotate stations during the shoot. You will enjoy the experience of each of 10 customized stands, all ADA accessible! Designed and engineered by the owner, Chad Hymas!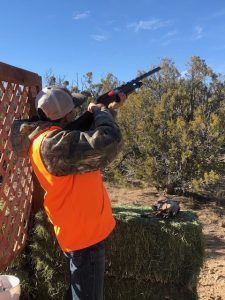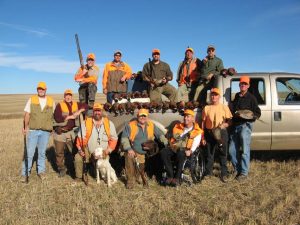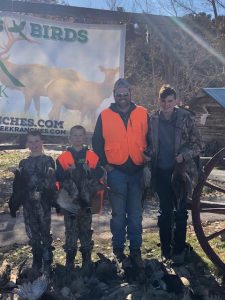 In the middle of the course is a 40-foot release area, which is hidden in the timber; all you see is trees in front of you or over your head. THIS IS REAL and NATURAL SHOOTING where you can't see where the birds are coming from. How many are coming, how high or how fast. The pheasants begin their flight high above the ground, then have 60 yards of flying time before they get to the shooters. It is very challenging for the shooters. Few groups shoot the majority of the birds released. Which means lots of birds for the field hunts which are FREE to hunt! Not uncommon to drop 4000 shells in 4 hours. A refreshment break is held halfway through the shoot, mainly to give your shoulder a break! After the shoot, the birds are divided evenly by the number of shooters. They are then breasted by the staff and packaged for your convenience. In an effort to recover all birds hit, we have a trained retriever within sight of each station. As a bonus, all dog handlers have Motorola radios, so you can hear the excitement, excuses, and all the grand bull coming from your fellow shooters. Then to finish the day, we make a group photo of all the shooters and the day's bag. Make sure your hunting buddies are sitting down when you show them a picture of you and hundreds of birds! Compare your bag of birds to those that went to states with a 3 or 4 bird bag limit! Most spent more money but shot less shells and birds. No bag limit here on our field hunts and driven shoots. NOTE: YOU DO NOT NEED TO GET A FULL GROUP OF SHOOTERS. ANY NUMBER CAN JOIN A SHOOT THAT IS BOOKED AND HAS OPENINGS. JUST CALL 435-831-1345 FOR SHOOT DATES WITH OPENINGS.
Nothing compares to our Driven Pheasant and Chukar hunts. #MemoriesForALifetime #WhoLetTheBirdsOut #LotsOfLaughs
DRIVEN SHOOTS MAKE GREAT CORPORATE MEETINGS! Like I say, our Driven shoots are like no other. You must try it! The group will have a professional guide, 2 – 3 gundogs, 3 hours of hunting, complete ranch access, bird dressing, bird processing, group photo, The Royal Feast, use of the "Lounge/Barn", and our famous "no bag limit policy!" 15-bird per person shoot is only $393 / pp = 15 BIRDS x 20 SHOOTERS = 300 BIRDS 20-bird per person shoot is only $489 / pp= 20 BIRDS x 20 SHOOTERS = 400 BIRDS 25-bird per person shoot is only $588 / pp= 25 BIRDS x 20 SHOOTERS = 500 BIRDS
Packages come with guides, dogs, 'The Royal Feast', birds, refreshment break, bird dressing, bird processing, group photo, pro shop access, a beautiful farm that is planted for hunting not farming, plus free birds if you find missed birds from past hunters.
The only other fee is sales tax and the cost of your hunting license IF YOU NEED ONE. We sell Utah CSA hunting licenses here at the office. SHOOTS ARE HELD MONDAY- SATURDAY! Very popular so plan ahead! On most shoots, a good number of birds fly away. Sometimes the farm can be loaded with these bonus birds. The group that hunts this farm the morning after may have several bonus birds. The group leader who booked the Driven shoot will have first chance to book the cleanup hunt for the next day. If they choose not to book this hunt, it will then be opened to the membership. A big reason to host a shoot! Wow, what a great deal for them! Host a shoot and you get the cleanup hunt the next day! You must book at least 12 shooters to host a shoot. Or join and shoot with a smaller number of friends. About half of the shoots have openings that you can jump in on with other shooters that booked the event.
We are booking for the 2021 season at this time. You can call or email us for dates to JOIN a shoot, we have several dates to pick from.
TO HOST A SHOOT YOU MUST ASSURE US OF 12 OR MORE SHOOTERS. WE CAN THEN HELP YOU FILL IN THE BALANCE OF THE SHOOTERS. SHOOTS VARY FROM 300 , 400, up to 1000 BIRDS, YOUR CHOICE IF YOU HOST A SHOOT. YOU CAN HOST A SHOOT OR JOIN A SHOOT. Call the office for details or email us and we can tell you how many openings are available for each date listed. From One to 10 people can join a shoot! CALL 435-841-1345 FOR MORE DETAILS ABOUT JOINING A SHOOT. or just email me info@royalcreekranches.com for a list of shoots that have openings to jump in on. HOST A SHOOT AND GET THE CLEANUP HUNT THE NEXT DAY. BRING YOUR CLIENTS FOR A GREAT TIME, OR YOUR CHURCH GROUP. WE WILL HELP FILL YOUR SHOOT IF NEEDED. 20 SHOOTERS IS A FULL SHOOT. Thank you for considering a shoot, May God bless you today! CONTACT INFO 435-841-1345 info@royalcreekranches.com