Royal Creek Ranches is a ceremony and reception venue located in Rush Valley, Utah. Wedding days are one of the most memorable days of anyone's life, and these milestones deserve to be spent at an unforgettable place. Our ranch offers offers elegant and rustic aesthetics that draw couples to this wonderful venue all year round.
Royal Creek offers offers several different wedding spaces for couples and guests to make use of throughout each celebration.  It is a spacious area that would be ideal for couples who are planning to host a large event. Our brand new Elk Ridge Lodge accommodates 300 guests for dinner inside. The patio is adorned beautifully, and it includes an outdoor fireplace, sitting area with a beautiful view and exquisite French doors. Interior rock fireplaces create a rustic elegant look while keeping the room's spacious feel uninterrupted, ensuring the couple's nearest and dearest can watch the memorable exchanging of vows.
We envision the most memorable day for each couple that sets foot in our doorstep. We will work diligently to deliver a seamless event, going above and beyond to meet your requests.
Our Mission, at Royal Creek Ranches is to provide you with a little slice of heaven and make your wedding an unforgettable celebration. We provide a welcoming atmosphere, where time stands still on your most important day.
Need to plan for your dream wedding ASAP? Have questions and concerns that need to be addressed in terms of the products and services that we offer? We are here to help!

Your Ideal Destination...
Our wooden-framed indoor venue,  is equipped with state-of-the-art amenities including a stage and dance floor. Outside, guests can wander through the beautiful acreage and enjoy the covered deck with fire pits.  Our indoor space is equipped with fireplace and a full commercial kitchen. Guests can stay on-site in our 17 bedroom Pheasant Haven Lodge, or enjoy a more intimate feel in our 5 bedroom Rose Cabin.  And all of this is just 60 mins from Salt Lake City, UT. Royal Creek Ranches is the perfect choice for your destination wedding.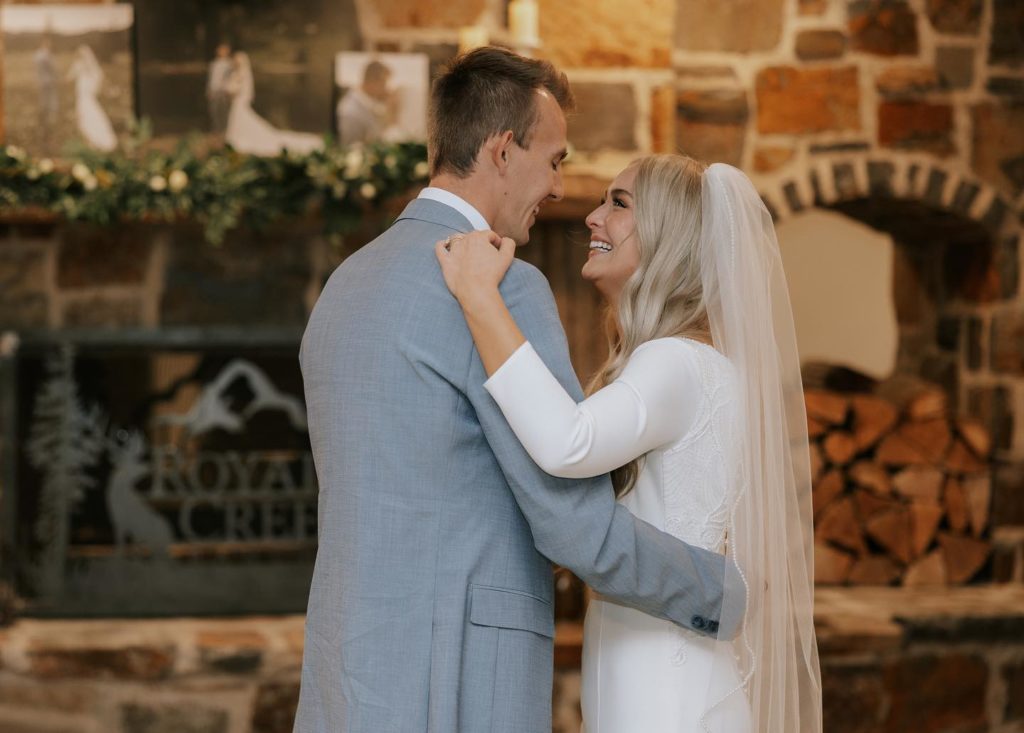 • 9,000 square-foot Elk Ridge Lodge with well-stocked stainless steel kitchen and indoor fireplace.

• Your choice of a romantic wedding outdoor wedding overlooking our beautiful acreage on our large deck.

• Round tables and chairs.

• Unlimited outdoor acreage for your guests to roam and enjoy the rustic property.

• Dance Floor, TV's and Entertainment System.

• Large outdoor fire-pit that seats 50.

• Lots of add on's to make your wedding one of a kind.
We can accommodate your entire wedding party and family for pre-nuptial preparation. Our on-site amenities are designed to make the hours leading up to your wedding carefree and memorable.
17 Bedrooms/ 20 bathrooms (sleeps 50)
5 bedrooms/ 3 bathrooms (sleeps 10)
Contact Us To Plan Your Special Day
Royal Creek Ranches
1801 W. Hwy 199 Rush Valley, Ut 84069