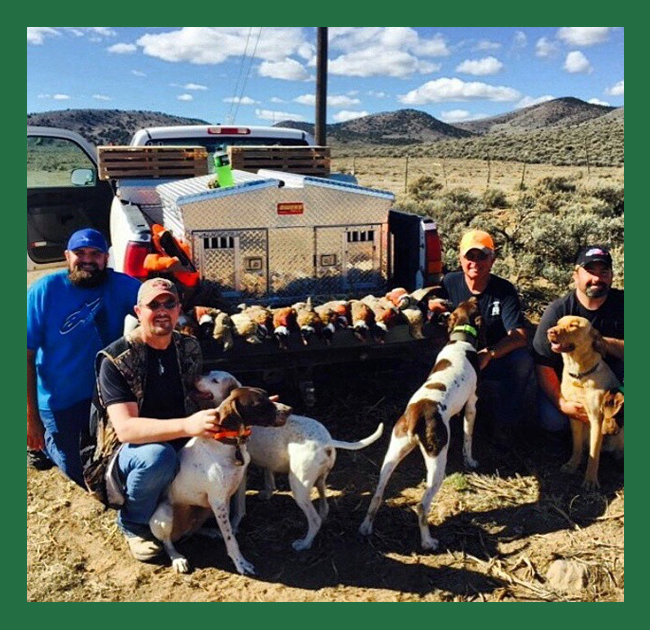 Our European shooting program totally unique. After much research and input from experienced hunters just like you, Chad Hymas, our founder, has created the perfect European Pheasant hunting program. Many pheasant farms have programs similar to ours, but none are quite as perfect as ours. Don't believe us? Just let us prove it to you.
Royal Creek Ranches is the only resort with birds as amazing as ours. Our bird harvest is around 60%, and there is bird shooting at birds up to 90yds in the sky and at 45mph. Our royalty birds are better than Doves, Ducks, Geese, you name it. These birds literally fly for their lives at such a speed and intensity, that there are no birds like them in the world of Pheasant hunting. Unlike most hunting locations, we are one of the only resorts in existence to incorporate shoot packages. We have packages that no other Pheasant reserve could come close to.
Our course has 10 stations, takes a minimum of 2 shooters per station, for a total of 20 hunters in the morning, and 20 hunters in the afternoon. Our shoots range from 300-400 and 500 bird shoots, to 1,500 bird shoots. Before our shoots we have the Royal Feast. This feast is dutch oven style food prepared by our executive chef. Prepare to eat like kings and queens. You will then be taken to our ranges on a hunt wagon, and meet your gun dogs and their trainers. Few groups have shot over 70% of the birds, and, in three hours, about 2,000 to 7,000 shells are usually used. THE BIRDS HAVE THE ADVANTAGE HERE!
We host almost 45 shoots per year, making us the best program in the U.S.A. We also have 40 dog handlers that are hired to model more than 100 labs trained professionally to make your hunt as amazing as possible. We truly are the best program available in America. Don't take our word for it, though! Come experience our friendly demeanor, hospitality, birds, dogs, and our many other amazing features for yourself.
To learn more, check out our European Hunts page. To arrange a shoot with us, call us at 435-841-1345, or email us at info@royalcreekranches.com. To book, a group isn't needed. We offer shoots for up to twenty shooters per shoot.

No bag limit. Yes, you heard us right: No bag limit! Shoot birds that others missed for FREE. Whether in a small group, corporate retreat, or part of Chad's Top 100 Club, Royal Creek Ranches is the best place for prestige habitat and endless birds. Our hunt packages vary from 6 to 20 birds, and come with guides and dogs, The Royal Feast, premium birds, a refreshment break, bird dressing, bird processing, a group photo, pro shop access, a beautiful hunting farm, and free birds, missed by past hunters.
Royal Creek Ranches has the perfect hunt for any budget.  Our hunts are being booked fast, so book quickly at 435-841-1345, or email us at info@royalcreekranches.com. Our groups must have a minimum of two hunters for the guides, and if you don't have two hunters, we can pair you up with others. Or you could take the third package and share the cost, shooting more birds. We also take groups of 5, and 9 per day at the resort. Check out Chad's Top 100 Elite Leadership and Safety Roundtables. For package options, check out our Field Hunting page.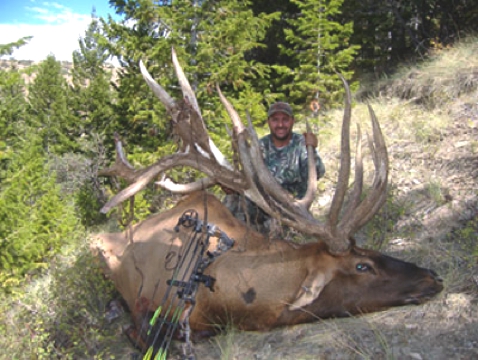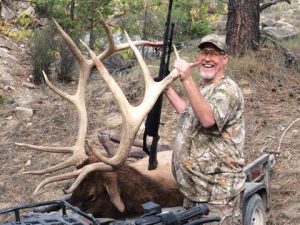 Royal Creek Ranch is the largest of its kind in Utah and offers an outstanding experience in Utah's premier Elk Country. Our Elk Hunts are from August 15th through Thanksgiving and they are 100% guaranteed. Nearly 1,000 hunters have enjoyed harvesting their dream animal at our ranch since 2001. We look forward to helping more hunters achieve their hunting experience of a lifetime in the years to come. We look forward to helping you achieve your elk hunt of a lifetime with your private group.
You will stay at base camp right on site. Roomy heated cabins have plenty of room for gear and a good night's sleep. Hearty meals are prepared by Royal Creek's camp cook. Call us today to obtain your license: 435-841-1345 or
you can send an email to: info@royalcreekranches.com. Check out our Elk Hunts page!