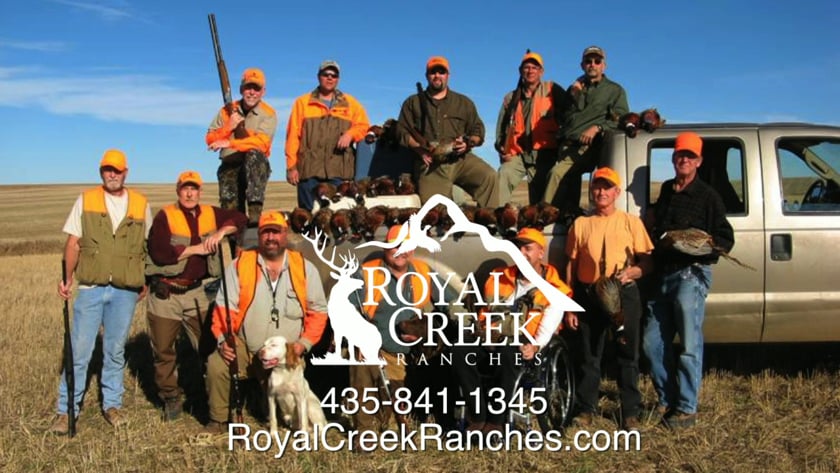 Join our hunting club for only $395.00 per year!
Call or email us for a membership application.
As a member of Royal Creek Ranches you get addditional perks! Of course you will get top notch hunting, but will also receive special privileges for being a member.
• Members can have ALL ROOSTER pheasant hunts anytime of the year!
• Members will get a free Royal Creek Ranches hat or t-shirt.
• Request your favorite guide for your hunt.
• Members only European shoot. Members buy the basic 15 bird European package, BUT we add 3 free birds per shooter. Making a 300 bird shoot 360 birds! 
• As a member you get first chance at all hunt dates. Field hunts or European shoots. As you may know, some dates get filled up weeks in advance. September will be the month for members to pick any special date, before non-members can book.
• If we have a cleanup hunt behind a European shoot, only members will be called and offered this special hunt. This does not happen a great deal, but it does happen a few times a year.
• The member that brings the most hunters here during a season, is the member of the year! This member will win $1000.00 in free hunts, or $1000.00 cash.
• FREE HUNTS! As a member you can earn free hunts. Each time you bring a guest, you get a credit. Once you get 15 credits you get a free ULTIMATE hunt for you! It's our way of saying thank you. Active members earn hunts so fast they seldom pay for hunts here!
• Members only Christmas Party! It will be a great time with food and door prizes that include free hunts! Quality time with fellow members. Last year we gave away thousands of dollars in awesome prizes!
• BOOK A EUROPEAN SHOOT and when you fill it you can earn free hunts.
• Discounts on hunts  
SILVER YEARLY CHARTER MEMBERSHIP COST IS ONLY $ 395.00
Thank you for your interest.  If you would like to join just call our office at 435-841-1034 or email info@royalcreekranches.com for a membership package to be sent to you.
20% discount on Pheasant Haven and Elk Lodge

Access to trophy fishing pond- catch and release only

Extra Birds at discounted rate

20% discount on merchandise

20% discount on sheep camp and amphitheater area

Bird clean out and meat preparation
30% discount on Pheasant Haven, Elk Lodge & Rose Cabin

20% discount on ATV rentals

20% discount on skeet range

Access to trophy fishing pond- catch and release only

Gold members only hat- limited edition

Extra Birds at 20% discounted rate

20% discount on merchandise

20% discount on sheep camp and amphitheater area

Bird clean out and meat preparation
European hunts- 400 bird minimum

One night rental of Pheasant Haven, Rose Cabin or Elk Lodge

30% discount on Pheasant Haven, Elk Lodge & Rose Cabin

20% discount on ATV rentals

20% discount on skeet range

Access to trophy fishing pond- catch and release only

Platinum members only hat- limited edition

Extra Birds at 20% discounted rate

20% discount on merchandise

Name as Platinum Member on Wall of Fame

Platinum members only dinner in December at Elk Ridge Lodge

20% discount on sheep camp and amphitheater area

Bird clean out and meat preparation
3 nights rental of Pheasant Haven, Rose Cabin or Elk Lodge

Chad Hymas will speak at a corporate retreat

European hunts- 400 bird minimum

30% discount on Pheasant Haven, Rose Cabin or Elk Lodge

20% discount on ATV rentals

20% discount on skeet range

Access to trophy fishing pond- catch and release only

Platinum members only hat- limited edition

Extra Birds at 20% discounted rate

20% discount on merchandise

Name as Elite Member on Wall of Fame

Elite members only dinner in December at Elk Ridge Lodge

20% discount on sheep camp and amphitheater area

Bird clean out and meat preparation